I've always loved patterned tights.
Recently, I've noticed that many girls at my school/fashion bloggers online have picked up on this trend. I love it.
Being the tall girl that I am, standing at five foot nine-and-a-half inches, I've wanted to wear tights. I have very long legs, so a little voice in the back of my head has kept pestering at me to showcase them by wearing cute patterned tights. Before I can get to the mall, reason counters with "It's too cold to wear tights, so there's no point~!"
It's winter here in Canada, and we have a good amount of snow. I get cold quite easily, therefore I tend to steer clear of wearing leggings or tights in the winter/fall/early spring seasons. Plus, I have to sit through a 45 minute cold bus ride in the morning on my way to school. ( I know, so many excuses.)
I'm trying to break out of this habit of comfort > style, but it's kind of hard.
Two weeks ago, I was at the mall and passed Bebe. A mannequin in the window had the prettiest pair of sheer black tights with little black bows on them, and I fell in love. I went back on the weekend to buy them and found that they were sold out. Which made me very sad.
I don't give up that easily! When God shuts a door, he opens a window. An internet window, to be exact. I went online. Here are some cute tights that I found!
(These were found on eBay. If you want to find cute cheap tights, search 'Women's tights' or something along those lines. Most come from wholesale shops/warehouses in China, so the price ranges between $2-$8, usually with free shipping)


The ones that I saw in the window of Bebe were like the first picture. Although the grey ribbon rights on the right are cute as well!
I also tried putting together an outfit that I would wear with the tights. I don't really own any clothes like the following picture, but it was fun putting it together! Hopefully my fashion sense doesn't really prove to be that bad.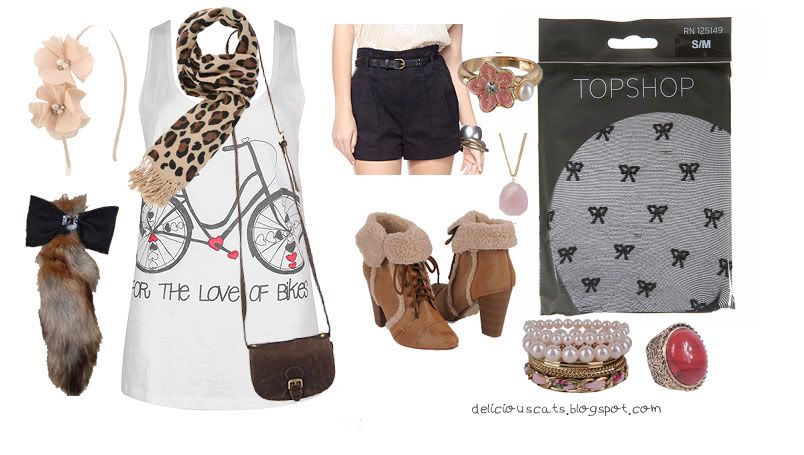 I was going for the cute/girly/casual look. (Heavily inspired by what I've been seeing in gyaru blogs and japanese fashion magazines.) This outfit is mainly from forever21 (I just went on the website and picked out some pieces!) I love whites/pinks/light browns, so I tried to incorporate that into this outfit.
Components of this outfit (click on the listed and you'll be directed to the actual webpage where it's being sold):
Black Bow tights (Not sold online at Topshop anymore, but I found same ones on eBay)
Brown foxtail (found randomly on google images) – It would ideally be worn hanging off the side of the bag~ I opt for the faux fur ones because I don't completely love real fur.
Tell me what you think!
♥ Cianna