Hi everyone!
I love how I'm able to blog more often now!
I bought a pair of circle lenses from ⊂( ・∀・) 彡━PANDA☆ 【Circle Lenses】


I've bought quite a few pairs from this place! It's a facebook group shop that sells very affordable circle lenses.
They owner is closing down the shop though because I think she's going to university next year, so she won't have time to sell lenses. All lenses are super cheap! Currently, all GEO and EOS lenses are just $11/pair!

If you've bought lenses before, you'll know that this is super affordable as most sites usually sell lenses for $20+! I'm not being sponsored to say this or anything, I just want to help out those who may be tight on cash and want to try out some cute lenses! This even includes the new BAMBI lenses!
Also great for people who live in the GTA/Mississauga as you are able to do facetrades to pick up your lenses.

For those of you who don't know what circle lenses are, they're a type of cosmetic colour contact lens that are supposed to make your eyes look bigger. They're very popular in China/Japan/Korea, and they are often used in gyaru fashions as well as cosplay! I mostly use mine for cosplay purposes.

Anyway, I ordered (another) pair of GEO Nudy Violet.


I had a pair of these last year, which I thought I forgot at my Anime North hotel room! Turns out that I just left them in my suitcase and discovered them while packing for Anime North this year haha…. Anyway I ordered another pair because they're awesome.
They're probably my second favourite lenses! (My favourites are my EOS Pure Gray lenses, which I wear for my Akiyama Mio cosplays!)

If you've read my GEO Nudy Green lenses review, you'll know how much I love the Nudy series!
Nudys give off the "natural" look as they blend in well with your actual eye colour. They give a cute glittery effect.

This is a close up of the lenses. The outer ring isn't as dark or prominent as other lenses, which makes them look more "natural."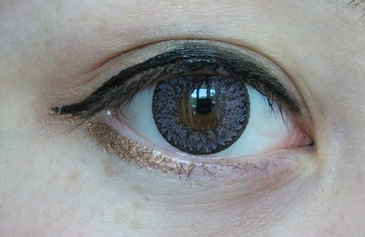 On the eye – natural light.
(I didn't notice my eyeliner was smudged! Baww ;A;)
This is closer to the colour they appear in real life.

SO MANY EYES! This is so you can see how they look in different angles.
I like the violet lenses much more than the green ones because I think violet suits me better?

Basically, I'm going to copy and paste the review from the Nudy Green lenses here! (Because I have the exact same opinions haha)
Design: 10/10
LOVE LOVE LOVE the design of these!
Despite not having a dark limbal/ outer ring, these do stand out quite well. The blendy design also appears a lot to me.
Comfort: 9/10
At times my eyes would feel dry, but with an eyedrop that problem was solved.
I basically almost forgot I had lenses in, haha!

Enlargement: 8/10
Enlargement isn't really a big concern for me, because I'm more interested in the colour! Besides, super huge lenses make me feel like an alien… That's why 14mm lenses are my favourite size. If you're looking for enlargement, I'd recommend the 14.5mm super nudies or 15mm lenses because I heard those are quite good!

Hope you enjoyed this review! 😀
Also, any requests for new types of posts? Like anime reviews, more life blogs, tutorials..etc?