Sorry for taking a while to update! This week I celebrated my 18th birthday (on August 30) and am currently finishing up my packing for university! Moving out on the 3rd, still have so much left to do.
I've also taken my Fan Expo (Friday con report) post down because photobucket said my image limit bandwith or something has been exceeded, so all the pictures went to a BANDWITH EXCEEDED sign. Hopefully all shall be sorted out once I set up my blog domain~ Anyway..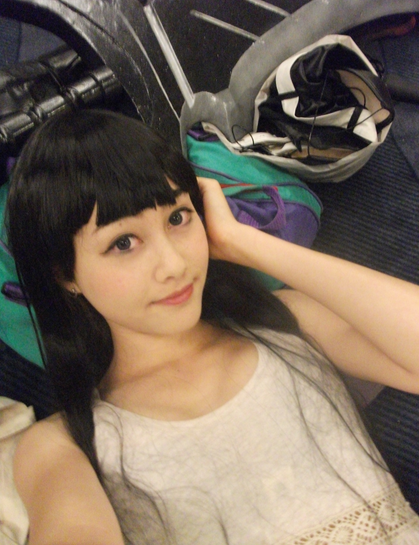 Last Saturday was…an adventure.
Ringo and I started the day off pretty early. We needed to finish packing up for the hotel and finish making Sami's STRength tail. We would have done it the night before but we were out for dinner/drinks with some friends at Gabby's (read about it in my FAN EXPO 2011 Friday post!)
Anyway, we finished cleaning, packing up, and making the tail. We finished putting on our makeup, and packed the BRS cannon and King Saw in the car. We ended up leaving for the hotel!
We reached the hotel and went to luggage check… But when I went to the counter they said that the there was no name reserved under the name that Sami booked under! We instantly went into panic mode because Sami was expecting to arrive at the con late and we would be stuck in the hotel lobby with suitcases and big props! Jean arrived at the hotel lobby and we panicked some more. In the end, we worked it all out, checked out luggage, and headed towards the convention centre.
Changed into our revamped BRS cosplays!
Derpy BRS and derpy DM are super moe!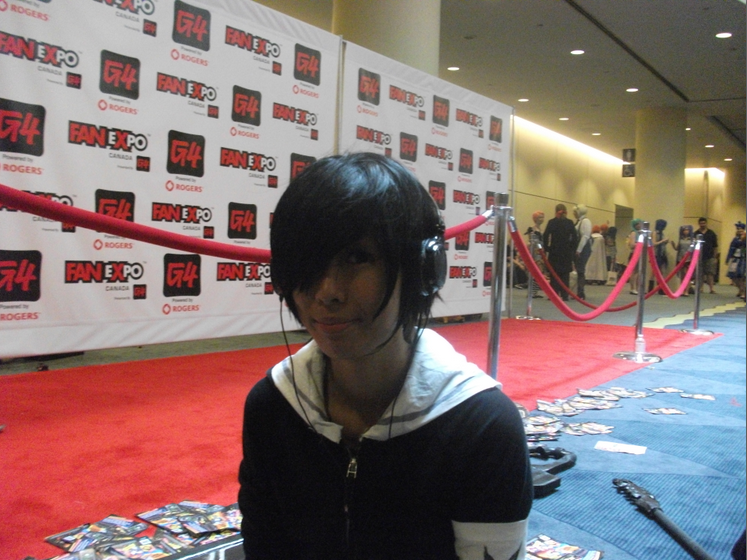 Carmen as Black Matagi is also super super cute! Ahh so happy, surrounded by so many cute girls!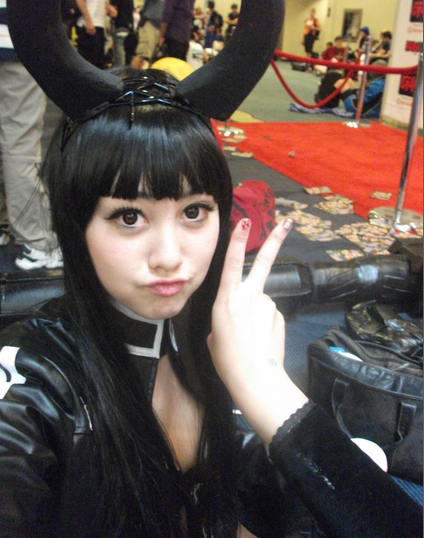 Dead Master photobombed me ): But at least her nails are pretty!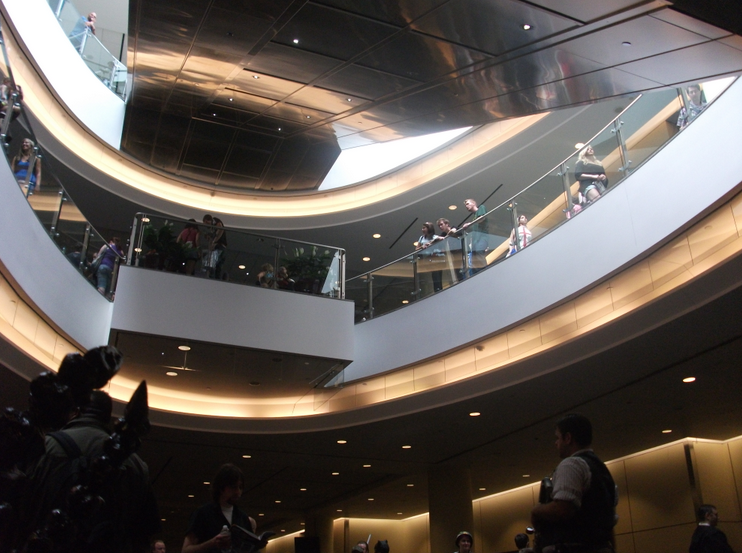 Sittin around on the floor. We had been taking lots of pictures before and were hot/sweaty so decided to take a break.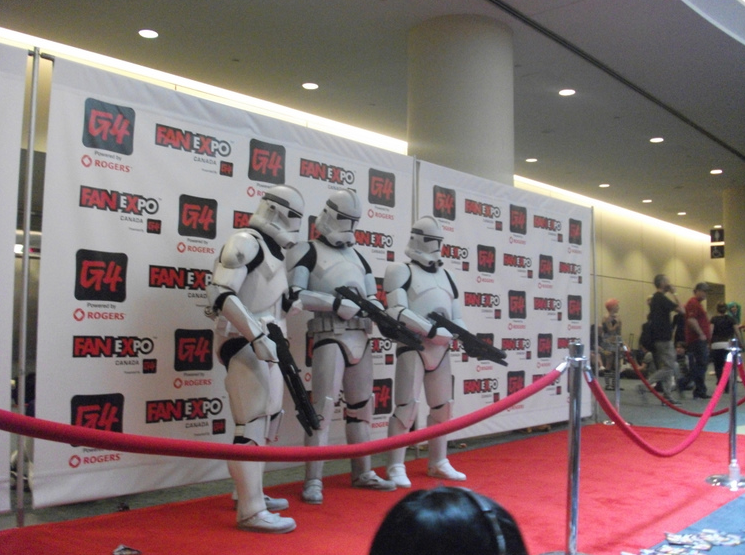 Storm trooper photoshoot near by!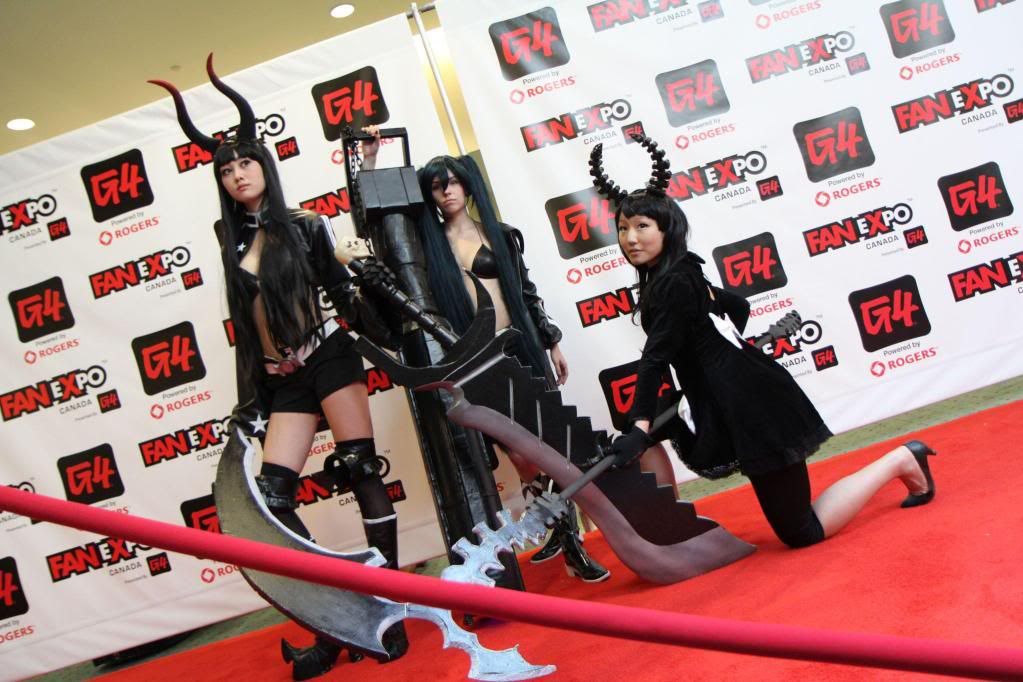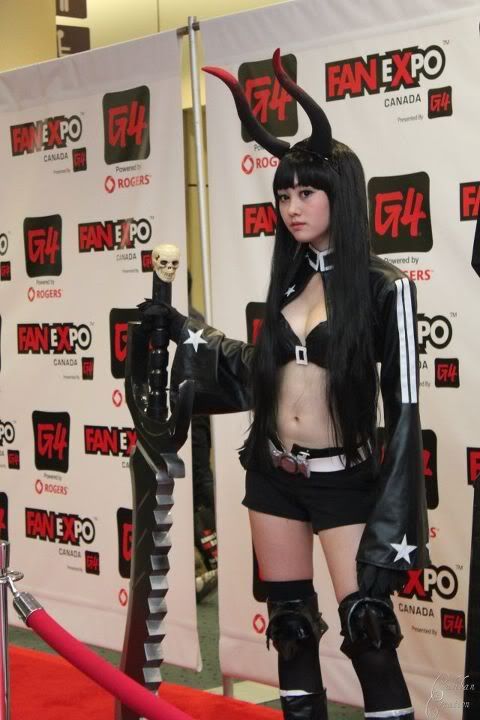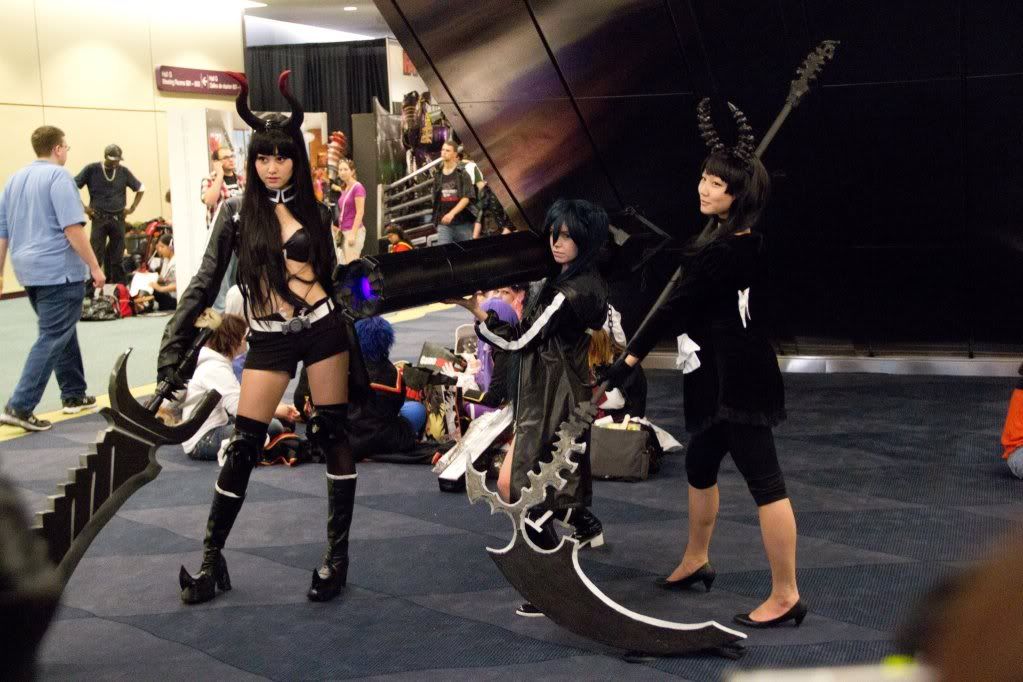 This is when I stopped taking photos, so here are some photos I found of our cosplays from later on that day! I feel that these photos turned out much better than the ones at Anime North! When I look back at some of the AN photos, I cringe! I did my makeup so horribly (with red liner under the eyes, ew!) My wig wasn't very pretty and my shoes were dying. I'm super glad that BGS turned out much better than at AN (and there was no underboob hooray!)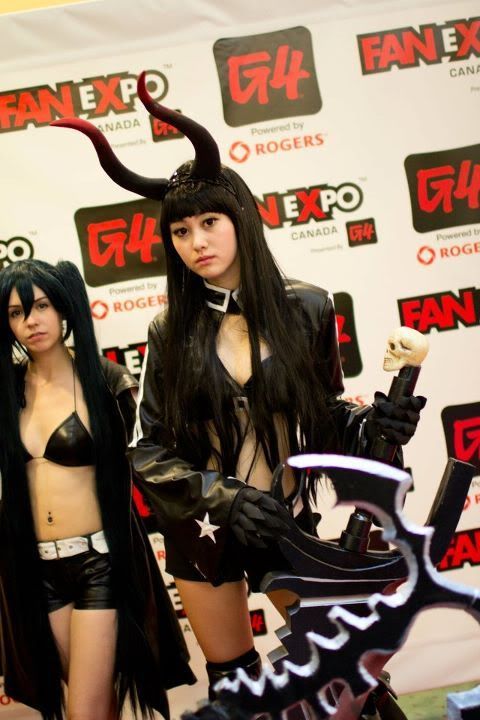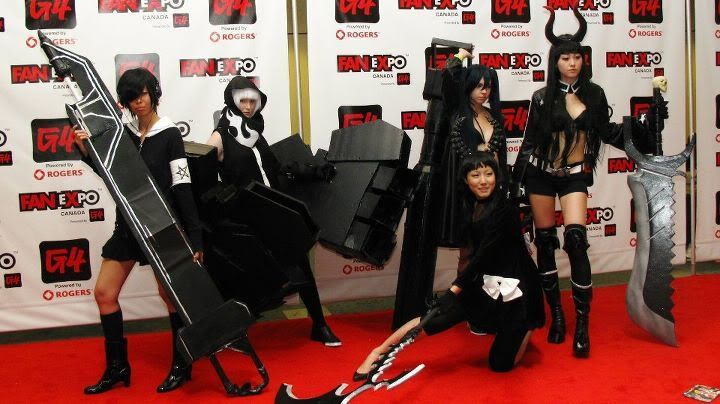 It's a nice feeling – the feeling of maturing as a cosplayer! I don't even want to remember my cosplays because they look horrible. I feel that my Meiko cosplay, BGS, and Mio cosplays are best to date, and I want to be remembered for those and nothing before that.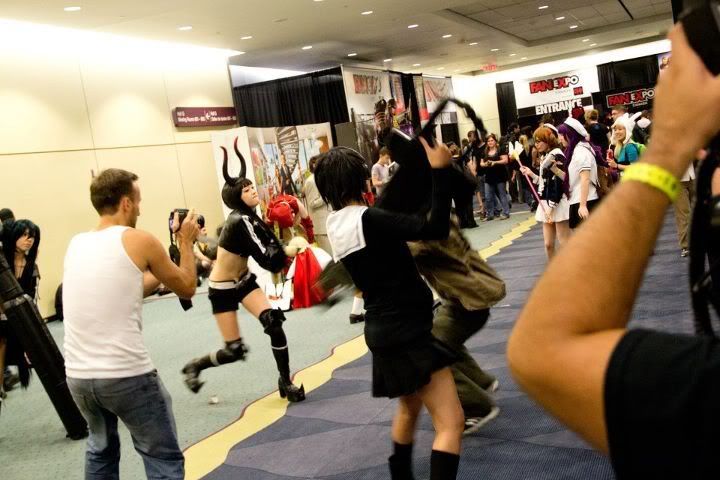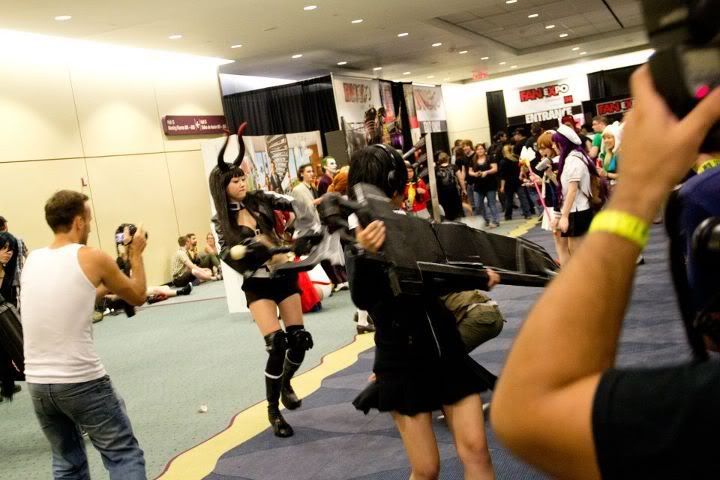 Trying to take a hit at Gak (
Gakattack on youtube
, check his videos out!). He does really cool videos in which he takes footage of cosplayers trying to attack him and then adds special effects so it looks like it's real!
I was trying to swing really hard and make it look forceful haha πŸ˜€
Here's the video he did at Anime North 2011.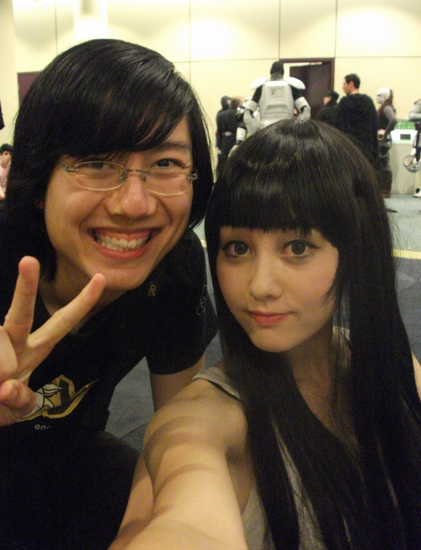 OMG look it's Moe Mike! We call him Moe Mike because he giggles all the time and is super moe.
(I realize that I use the word moe a lot and some of you might not understand that. It's pronounced like 'moe-eh'.
Here's the wikipedia page!
I just describe moe as a super cuteness that makes your heart beat fast haha~)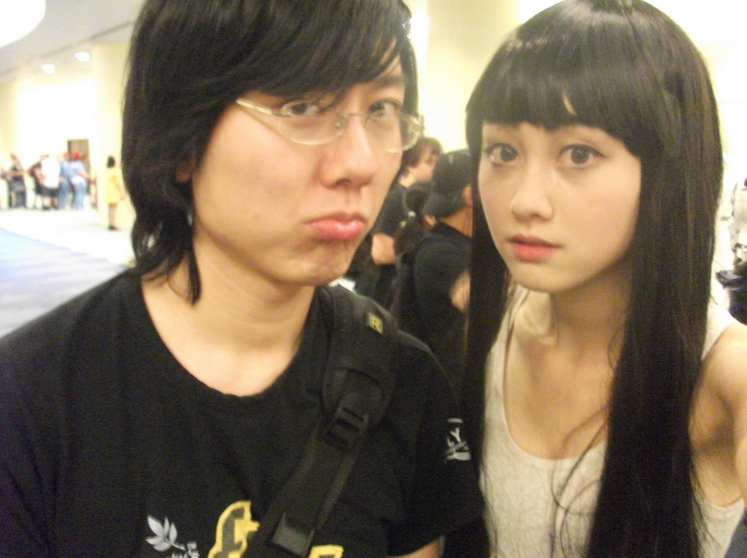 Sad faces! I don't look very sad though, just confused haha.
Josie was cosplaying Asuka from Neon Genesis Evangelion. She was originally going to do the plugsuit version but didn't finish it so she just went casual. So cute!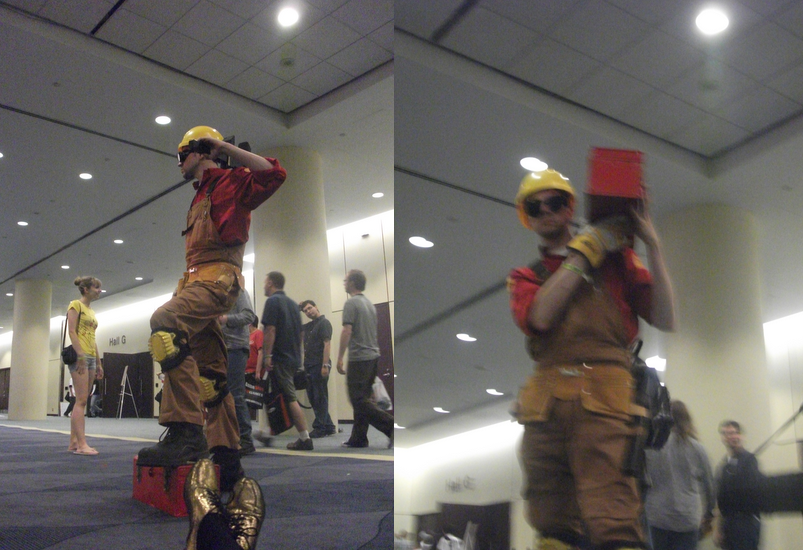 Red Engineer from Team Fortress 2 appeared again! He stopped to pose in front of me while I was lying down, so you can see my gold shoes in the first picture.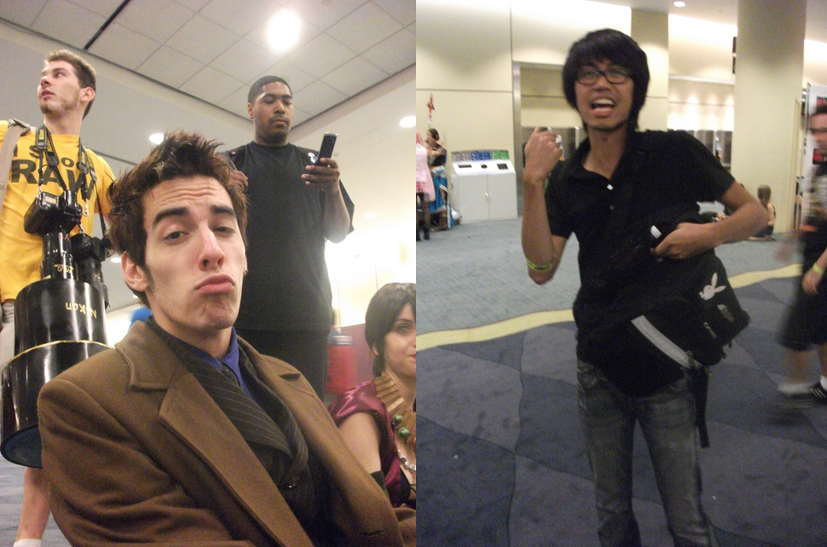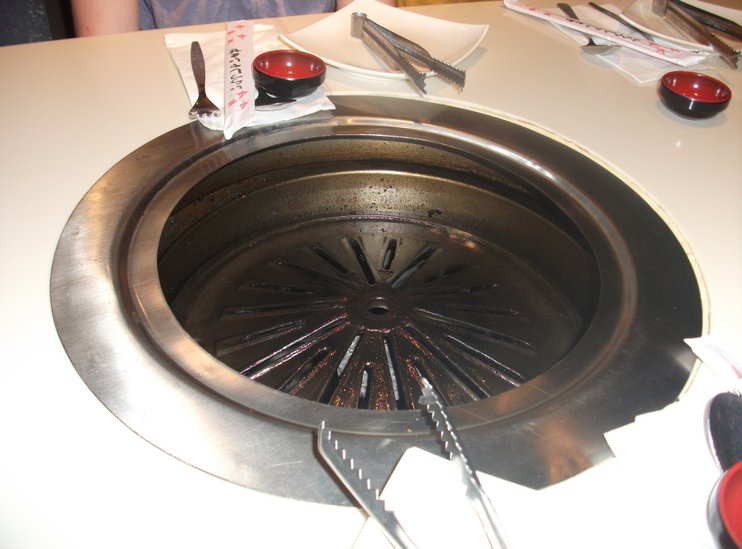 Dragged our weapons back to the hotel with the help of Justin, Thomas, and Moe Mike! Then we headed out to to Korean BBQ! I had only been to KBBQ once before but that was a long time ago, so it was nice to go again with a group of close friends.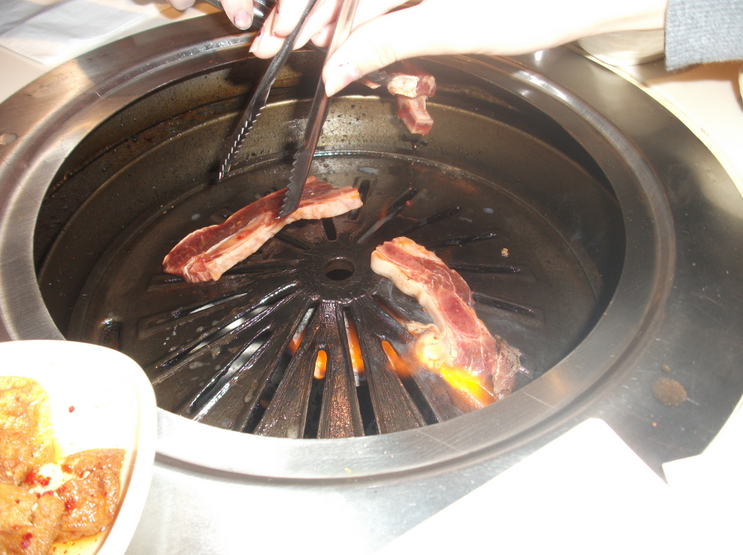 Korean BBQ is when there is a grill at your table, and you're served raw meats/veggies. You put the meat and veggies on the grill yourself! The food tasted so good~!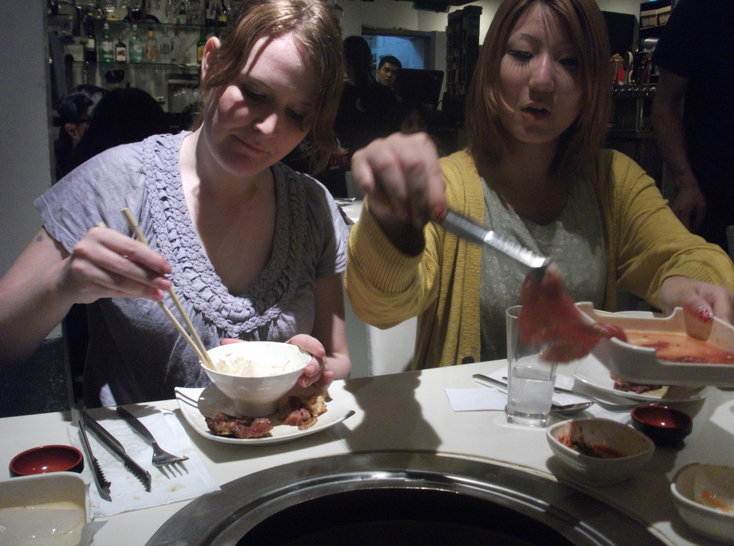 Sami and Jean, expert korean grill masters~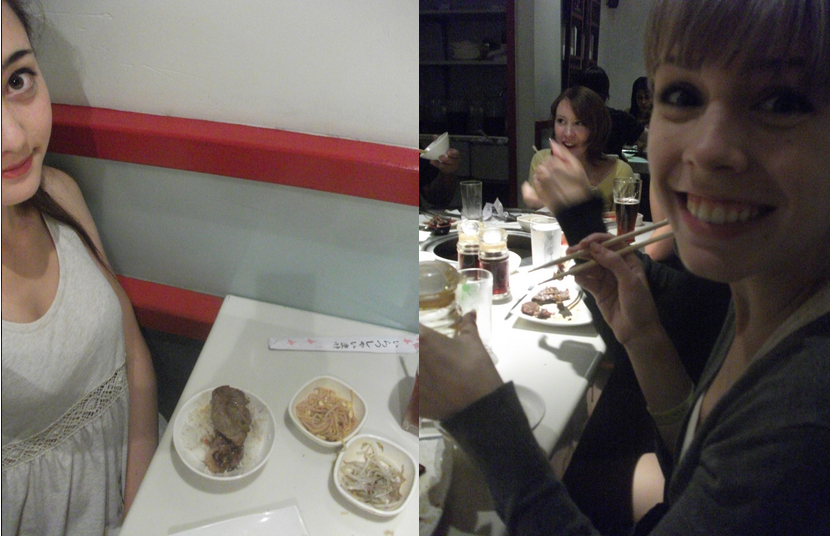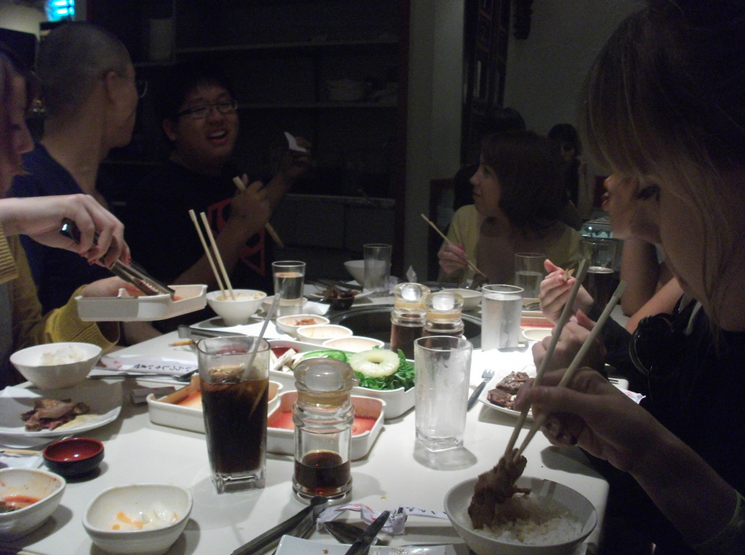 Om nom nom nom nom!
Ringo and Jean went to Gabby's again for drinks with Wasi & co, so Sami/Carmen/Thomas/Mike and I headed back to the hotel. I'm glad that Thomas/Mike walked us back to the hotel – Toronto at night is kinda of scary haha! So many people out partying/clubbing.
Sami crashed first while Carmen and I talked for a bit and had girly bonding time <3 Fell asleep shortly after. Jean and Ringo came back at…5AM haha!
That's it for now, expect the Sunday con report soon. Uploaded the Friday convention vlogs if you're interested!