I'm here to bring you my first sponsored lenses review. These were sent to me by
mukuCHU
circle lenses!
I will be reviewing the red lenses in the Big Candy series. (G-205)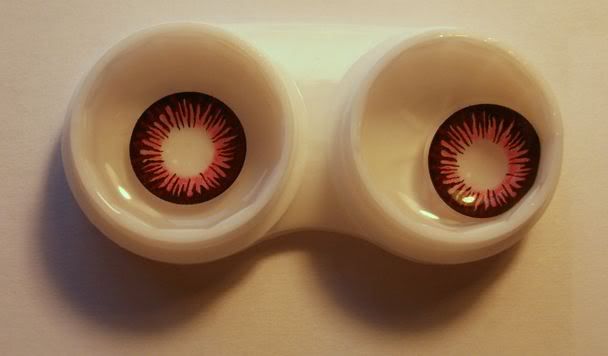 POWER/PRESCRIPTION:

0.00 (Plano) to -10.00
LENS USAGE: UP TO 1 YEAR
SHELF LIFE: 3 YEARS
MANUFACTURER / ORIGIN: SOUTH KOREA
MATERIALS: 2Hema
B.C.: 8.6mm
DIAMETER: 14.50mm
WATER CONTENT: 38%
I was really excited to get these because these were the lenses I was going to use for my Black Gold Saw cosplay! I've used Animation lenses before (for my Suiseiseki cosplay) but I wasn't really looking forward to having bright red eyes again. (Animation lenses were uncomfortable and made my eyes really light sensitive.)
I chose to review this pair because of the size (never tried 14.5mm before!) and the colour, which looked more like a blendy red than a bright red.
(Lighting made the one on the right appear lighter.)
No flash, natural light, no makeup.
The red isn't really as noticeable, but the black ring definitely is! I wasn't really used to such large lenses so I stared at my eyes in the mirror for like, 5 minutes! Ha!

No lenses, no makeup.
Natural light. (Photo taken by window.)

Comparison- with and without lenses.
Natural light.
The red looks more like a blendy brown in natural light.

Left: Natural light
Right: Artificial light (taken by a lamp.)
The red is much more noticeable in artificial light.

Both lenses in, natural light.

LOL CREEPY STARING SHOT! – Natural light.
Even with my eyes wide open, these lenses are really really big!
Natural light.
Left eye with makeup, right eye without makeup.

In most of my photos, the colour looks brown.
However, this photo probably demonstrates the best what the real colour is!
Here are some pictures with full makeup on, to give an idea of what the lenses look like.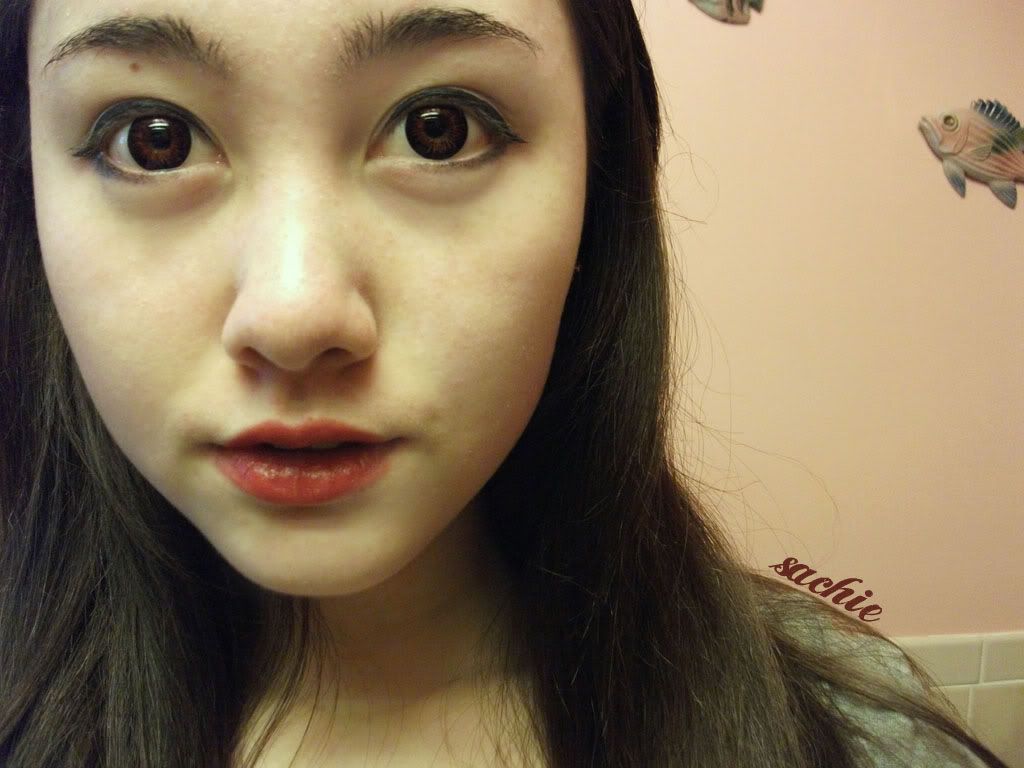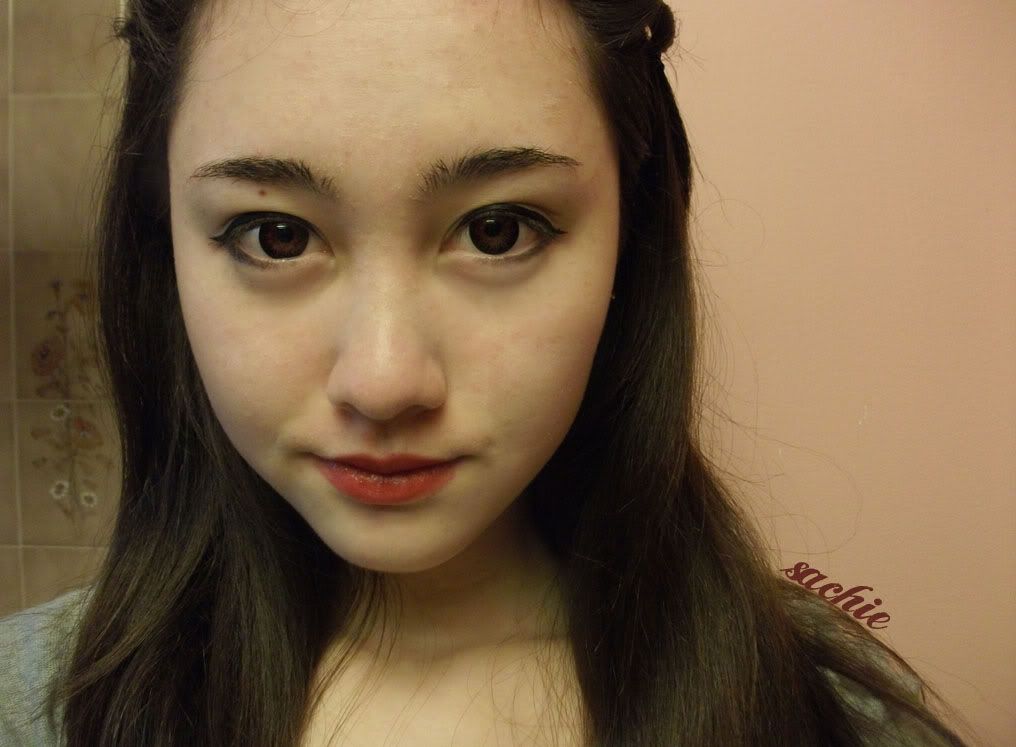 (Evil look, hehe ;3)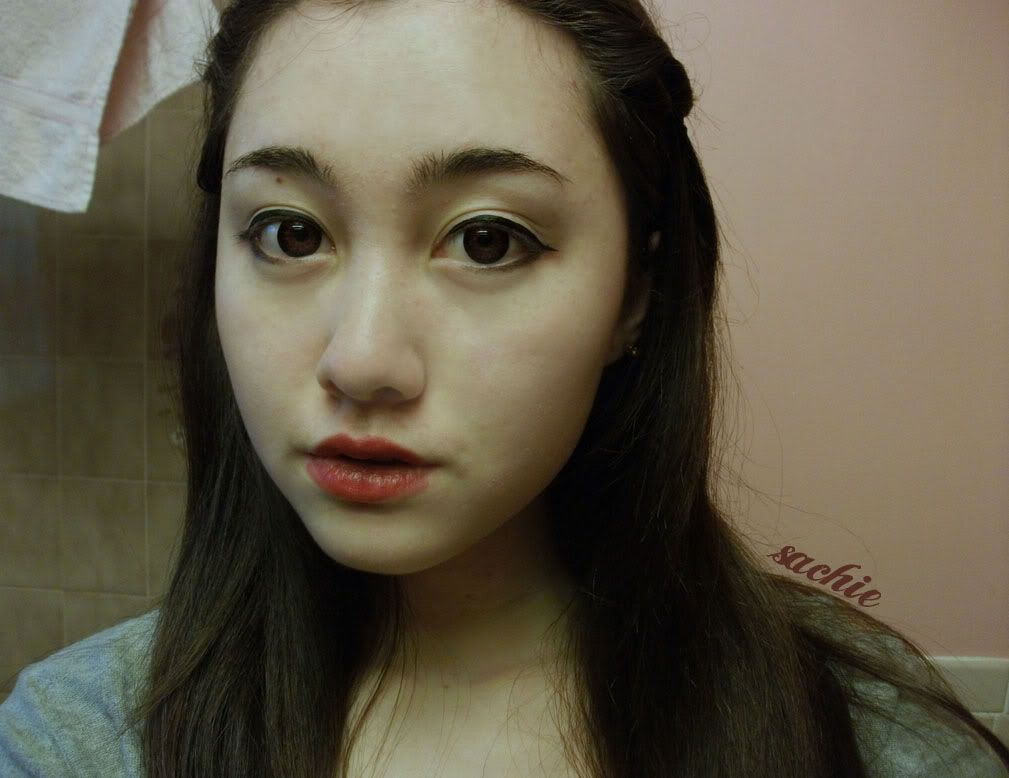 These lenses definitely help achieve the big eyed/ doe-eyed / moe look!
So, the review!
Design: 8.7/10
I love the spikey design! I wish that the colour was more red though, instead of being a red-brown colour.
Comfort: 9.5/10
These lenses are so confortable! Despite being really big, they didn't really try my eyes out and I couldn't feel them when I put them in! EOS definitely makes very comfortable lenses.
Enlargement: 10/10
Wow, these lenses definitely enlarge! Despite being 14.5mm, these lenses made my eyes feel really really big. This is my first time trying 14.5mm lenses, and I couldn't stop staring in the mirror! It was kind of weird at first, but I got used to it.
These eyes definitely help achieve the moe-eyes look! I can only tolerate the big eyes when I have makeup on, or else I look like an alien haha!
So guys, please check out mukuCHU lenses! They offer lenses for a great price, and they have quick shipping! (I think it only took 10 days to ship from Australia to Canada~)
All GEO and EOS lenses for

$26 AUD / $24 USD

a pair

All GEO 15mm Lenses are $20 a pair!

All FunkyEyes Lenses are $29 a pair!

Free lenses case with every pair!

Reseller/Wholesale prices for 10 or more pairs!
VIP discount and free lens case not offered for wholesale orders